Chief Financial Officer's Report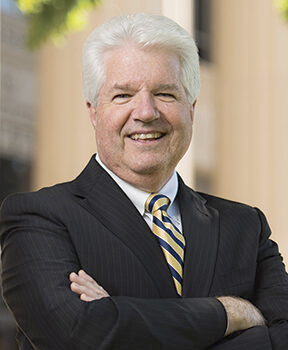 The University of Michigan has long been committed to discovery, education and service for the public good. And we're relentless in our pursuit of knowledge, engagement, impact and excellence as we support the university's missions of education, research and patient care.
While there are many elements that support these efforts, two significant factors stand out — our exceptionally strong financial position and the continued dedication of our nearly 50,000 employees to the institution's missions. These critical advantages allow U-M to offer an outstanding education to students from around the globe, perform research that benefits society and deliver excellent health care services. In many ways, they are the primary reasons U-M has widely been recognized as one of the world's best universities for years.
"We're relentless in our pursuit of knowledge, engagement, impact and excellence as we support the university's missions of education, research and patient care."
MAINTAINING A STRONG FINANCIAL POSITION
The university's financial position remains very strong. Our net position increased $523 million in FY 2019 to $14.8 billion. The key drivers for this growth were generous gifts for endowment of $176 million and returns from our endowment investments net of spending rate distributions, which added $316 million. Endowment funds, which are invested principally in the university's Long Term Portfolio, totaled $12.4 billion at June 30, 2019. Distributions from nearly 12,000 individual endowments provide ongoing support for a variety of academic, health-related and other needs across the university such as student scholarships, professorships, clinical operations and research.
The table below summarizes the investment performance of the university's Long Term Portfolio in relation to comparative benchmark portfolio returns.
INVESTMENT PERFORMANCE
| | Return for the 12-month period ended June 30, 2019 | Annualized 5-year return | Annualized 10-year return |
| --- | --- | --- | --- |
| Long Term Portfolio | 6.4% | 6.5% | 9.6% |
| U-M's Benchmark | 6.4% | 5.9% | 9.0% |
| Blended Passive Index | 6.5% | 5.3% | 9.0% |
With a 10-year annualized return of 9.6 percent, the investment performance of U-M's Long Term Portfolio is in the top quartile of performance relative to those of other college and university endowment portfolios. The university's 10-year and 5-year annualized returns exceeded those of its custom U-M Benchmark and Blended Passive Index, while its 12-month annualized return is consistent with the custom U-M Benchmark and slightly under the Blended Passive Index.

While net investment income can be volatile from year to year, our endowment distribution policy and long-term investment strategy combine to insulate the university from this volatility and provide dependable annual support for operations. Our endowment distribution policy smooths the impact of volatile capital markets by providing for annual distributions of 4.5 percent of the seven-year moving average fair value of the endowment. This policy, along with the endowment's growth, allowed for distributions of $361 million to support university operations in FY 2019, for a total of $1.6 billion over the past five years.
DIVERSIFICATION IN REVENUE STREAMS
A revenue diversification strategy has been in place at U-M for years, enabling the institution to be financially stable through various economic cycles and avoid unnecessary dependence on student tuition and fee increases. The components of the university's sources of revenue are depicted in the following charts.
Funding for the university from the state of Michigan remains an integral source of financial support. In FY 2019, state educational appropriations grew by 2.0 percent to $370 million. We are very grateful for the continued support of higher education and the University of Michigan by the residents of our state.
The academic operating budget continues to balance academic excellence and investment in the future with student affordability and access. Tuition rate increases for FY 2019 were 2.9 percent for resident undergraduate students, 3.9 percent for nonresident undergraduate students and 3.3 percent for most graduate students on the Ann Arbor campus, with 3.7 and 4.3 percent tuition rate increases for most resident undergraduate students on the Dearborn and Flint campuses, respectively. The FY 2019 budget also included a 16.3 percent increase in financial aid for undergraduates on the Ann Arbor campus, with 15.4 and 8.4 percent increases in institutionally awarded financial aid on the Dearborn and Flint campuses, respectively. U-M has been able to limit tuition increases and provide generous financial aid due to ongoing growth in non-tuition revenues and a longstanding commitment to controlling costs and improving efficiencies.
The demand for a University of Michigan education continues to grow, with more than 80,000 applications — a record number — submitted from around the world for its three campuses. This is the 12th consecutive year that applications have increased. U-M's sterling worldwide reputation and great value make it a top destination for outstanding students from Michigan, the United States and countries across the globe.
RESEARCH THAT SERVES THE WORLD
Research expenditures at the University of Michigan reached a record high in FY 2019, which helped spur advancements in a variety of areas ranging from mobility and opioid addiction to sustainability and the arts. The volume of research at U-M totaled $1.62 billion in FY 2019, a 4.8 percent increase from FY 2018.
The federal government remains an essential partner in the university's research endeavors, funding 55 percent of the university's total volume of research in FY 2019. Federal investment totaled nearly $900 million, which supported U-M research that improves public health, bolsters economic competitiveness and strengthens national security. The U.S. Department of Health and Human Services, which includes the National Institutes of Health and is consistently the largest external sponsor of U-M research, provided $616 million in FY 2019.
Research expenditures from internal sources also increased by 4.8 percent last year to $549 million. An increase in institutional funding stems partly from targeted research investments that address emerging challenges and opportunities in areas of broad potential impact. Industry support also increased last year, as total research expenditures from industry sources reached a record high of $118 million — an 8.1 percent increase from FY 2018.
In FY 2019, U-M researchers reported a record number of new inventions with 502 — the first year with more than 500. The number of startups launched at U-M increased to 22 in FY 2019 and many of them operate in Southeastern Michigan in a wide variety of sectors, including computer hardware and medical devices. Beyond that, the Office of Technology Transfer signed a record 232 license and option agreements with companies seeking to commercialize U-M discoveries.
Thanks to the university's excellence around disciplines and strong culture of collaboration, our researchers continue to advance knowledge, solve challenging societal problems and create new products and services that enhance quality of life.
A COMPREHENSIVE ACADEMIC MEDICAL CENTER
Michigan Medicine — which includes the University of Michigan Health System, University of Michigan Medical School, Michigan Health Corporation and UM Health — continues to be a nationally recognized leader in advanced patient care, innovative research to improve human health and comprehensive education of physicians and medical scientists.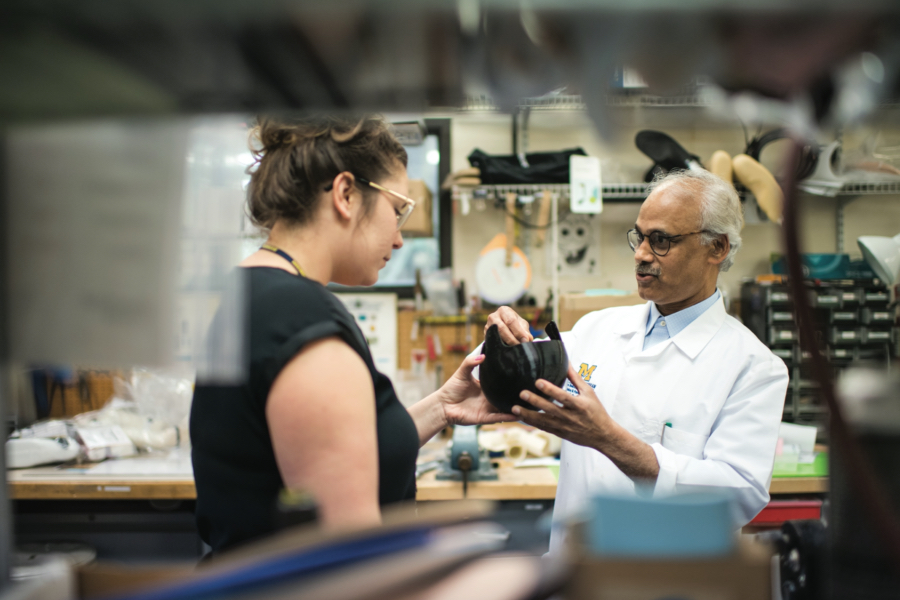 The University of Michigan Health System had positive results in FY 2019, with an operating margin of $128 million, or 3.0 percent, on operating revenues of $4.3 billion. These results reflect a steadfast focus on investments in safety, quality, access and efficiency. In addition, they demonstrate the commitment of our dedicated faculty and staff to providing excellent health care, improving our patients' experiences and executing our long-term vision of being a health care provider of choice in the state of Michigan.
A number of initiatives in FY 2019 enabled Michigan Medicine to improve patient access and alleviate capacity issues. The nearly 300,000-square-foot Brighton Center for Specialty Care opened, providing more than 50 adult and pediatric specialty services. The West Ann Arbor Health Center, which houses 27 adult and pediatric primary and specialty care services, completed its first full year of operations. Michigan Medicine and St. Joseph Mercy Health System opened a joint venture in Chelsea, Michigan at the new 133-bed St. Joseph Mercy Chelsea Hospital. Michigan Medicine and Sparrow Health System also signed an affiliation agreement to expand access to specialty care for patients in mid-Michigan.
A STRONG FOUNDATION FOR THE FUTURE
We maintain a strong focus on universitywide fiscal discipline and efficiency by continuously focusing our resources on U-M's core missions, which helps ensure the university remains financially healthy in the coming years. On that note, the university has seen more than $400 million in recurrent general fund savings since FY 2004. This has enabled the university to avoid reductions in critical programs and ensure modest tuition increases in difficult economic periods through its ongoing focus on strategic cost containment efforts.
To maintain excellence in education, research and patient care as well as provide opportunities for collaboration among multiple disciplines, U-M must continue to make important capital investments in a wide variety of facilities. In FY 2019, U-M had another impressive year of construction and capital renewal. A summary of capital projects completed, in progress and in planning during FY 2019 appears in the Major Projects section. We continue to balance investments in new facilities against renewal of existing facilities, which allows us to avoid an excessive accumulation of deferred facility maintenance.
In FY 2019, U-M's long-term debt again earned the highest possible credit ratings from S&P Global (AAA) and Moody's (Aaa). We have received these stellar ratings for many years, which is a clear indication of strong financial health and a positive future. U-M is one of only seven public universities in the country to earn these exemplary ratings — an impressive accomplishment by any measure.
"To maintain excellence in education, research and patient care as well as provide opportunities for collaboration among multiple disciplines, U-M must continue to make important capital investments in a wide variety of facilities."
I encourage you to review Management's Discussion and Analysis (PDF) in conjunction with the audited financial statements. This section of the annual report offers more details about our financial strength, prudent financial policies and commitment to excellence. When combined with our dedicated employees, these factors have created a long-term foundation that allows U-M to make contributions that enrich the world.
Sincerely,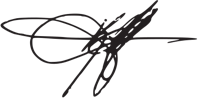 Kevin P. Hegarty
Executive Vice President and Chief Financial Officer